catsinthetub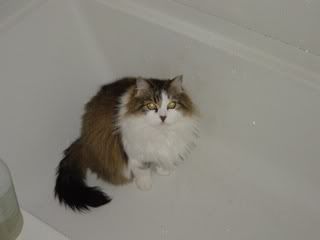 Rest in Peace
1993-2005
Ms. Tigger and I on the happiest day...
Truly My X-Mas Miracle Kitty
The Godfather is doing sooo much better. He has gained 4lbs and is now up to a fat 13lbs. He enjoyed all of his presents that he got in his stocking. It was basically lots of mice and balls. He loves to play with balls. I caught him drinking X-Mas tree water yesterday. It was cute. Dr. Vet said that he looked like a totally different kitty. He really thought that we would have to put him to sleep soon, but after looking at him, he didn't think so. He gave me some more medicine and said that he would need to take it for the next 8 days. After that, we would go back for one more exam. Dr. Vet said that if he looked as if he had kept on improving, then he would see us in March. I was like, "In March?". He said yes, for his yearly shots! He said that he could see no reason possible that The Godfather and I would not have a long life together. I was and still am completely shocked.
I hope that everyone out there has a Merry X-Mas and that Santa was good to them. He was very good to me. I'll tell you about that later. I'm at my parent's house and we are visiting and I'm not much company while on the computer. Happy Holidays and a Happy New Year!!!
ttfn
Finished With The Medicine Until Monday
I just wanted to do a quick post and let those of you that gave a shit know that Brando was finished with his medicine until we have to go to the vet on Monday. I will find out Monday morning exactly how long that I have left with my little angle. Have a Merry X-Mas!!!!!>>>ttfn
The Godfather Isn't Having A Very Good Day
He's been on these medication since last Wednesday. It just takes everything out of him. It's killing me to see what it's doing to him, but I talked to Dr. Vet this morning and he said that it was to be expected. The medicine is just making him sicker than he was when I took him to the vet last week. He goes back Monday at 10am to see if there is a future for the Godfather and myself. If there is, than my prayers have been answered. If not, I will wait until after his first X-Mas and then do the right thing and have yet again another baby put to rest long before their time. I just don't know if my heart can handle this. I mean, I'll have two cats that have been cremated. Why is this happening? I love him so much. Please keep praying, chanting, or whatever it is you do for us. I'm just praying that our first X-Mas together isn't our last. I'm praying for a miracle here. He's only 5 years old. It's not his time and besides, I don't think that I can handle the heartache. If I have to put The Godfather down, I may need a nice padded cell someplace. >>>ttfn
Stay Away From PetsMart
Well, I wrote the other night that Brando was sick, but I had NO idea how sick. My Father and I took him to our vet yesterday morning. Dr. Vet said that it looked like kitty leukemia. I mentioned that his breath has been awful since I adopted him. He said that's one of the number one signs and he guarantees that they knew it. While looking over the adoption papers, they noticed that PetsMart never did have a follow up test done to make sure that he didn't have leukemia when indeed, he did. Dr. Vet said that was why his breath was so bad. He's basically one big ulcer from mouth to bottom. I just started crying hysterically and had to leave the room got about 5 shots and Dr. Vet send me home with lots of medicine to give him over the next 10 days. It's kinda like he's going through chemotherapy. When we go back in 10 days and if he looks better, there is a chance that we can fight this with medication. He's just like a mountain lion when it comes to giving him medication. I'm just praying that this medicine works. If it doesn't and I see that he's suffering, than it looks like I'll be doing the same thing in 06 with Brando that I had to do with Miss Tigger in 05. I'm just trying to keep a positive attitude. I'm praying that he's going to get through this and be around for a while.>>>I'm just EXTREMELY pissed off that PetsMart let me adopt a cat knowing he was sick. I called them to go off. They actually had the nerve to tell me that when he passed away that they would be willing to give me a free cat and they would make sure that there was nothing wrong with it. I was like, Oh, after my best friend dies, you'll just give me another one!Are you crazy? I don't think so!" I told them that I would never shop there ever again and know lots of people that shop there and that by the time that I spread the word, they were going to lose lots of business. So do me a favor, people,
DON'T GO THERE, PLEASE!!!
>>>You all know how hard it was for me to go through the death of Miss Tigger and now this! I just don't know what to do. If you want to help me, stay away from PetsMart and tell everyone you know.>>>I'm not giving up on my baby just yet. We still need your prayers, now more than ever. Please, please, please pray for us. Thank you!!! ttfn
I'm Having A Nervous Breakdown
My baby (The Godfather/Brando) is sick. I mean really sick. We have an apt. with the vet in the morning. People, if I loose this cat after what I went through with Miss Tigger than I think I'm going to loose my mind. We're just now getting to that point where I can't imagine my life without him and now there is a possibility that I might loose him. To all of my friends out there that know how kitty crazy I am and also have pets of your own, please say a little prayer for me and my baby. Pray that I don't go crazy and pray that he gets well soon. I mean, we just got our stockings and our tree. Your prayers would really mean a lot. I just can't believe this. He has to be ok. He just has to.
I'm off to snuggle with him now. I'll keep you posted.
ttfn
I'm A Magnet For Unavailable Men And I'm Sick Of It!
I guess this entry would go along well with my "Men Are Pigs" one. I just don't get it. I've had a few men ask me out lately and over the years. They are either married, got a girlfriend, gay, or my BIGGEST pet peeve; they try to change me. I hate that oh so much, you just don't know. I was and part of me still is in love with someone who wanted to turn me into a Stedford Wife. Sorry, what you see, hear, and read is what you get! The reason that this has really been bothering me lately is because I'm starting to think that there is something wrong with me. I mean, "Do I have a huge neon sign blinking over my head that says, "Hey, come screw with my head, I'm a sucker!"? This is not only making me loose my faith in men, but it's slowly making me loose my faith in all people.
I'm just starting to feel like everyone has a secret motive to even want to hang out with me. I guess I'm just being paranoid, but what do I have to offer? I guess if I absolutely had to, I could paint them a pretty picture. I just want to cry, which is something that I've been doing a lot of lately. I can feel myself going into this isolation mode quickly and I don't like it. I'm just so damn lonely. I've never felt this way, ever!
I'm getting to the point where I want to be alone all of the time. I don't want to let anyone in. That way I can get used to being alone and I don't have to feel the heartache when they decide to leave.
ttfn
Get Out Of My Dreams
Well, today is World Aids Day. I think that everyone should acknowledge that. It's a growing epidemic that needs to be addressed. People, we all need to wake up and realize that it's not just a gay disease, it's not just a black disease, it's a disease that anyone can get. I want everyone to take a moment to think about it and maybe say a little prayer. Maybe you have a friend with this horrible disease or know someone that has it. Pray for a cure! I know I am!!!>>>I can't believe that it's already the 1st of December. It just feels like this year has flown by. I have been having the weirdest dreams lately. I have been having "normal" dreams, but my ex-boyfriend from another lifetime has been in every one of them. It's not like we'll talk or anything, he's just there. I'll have a dream that I'm out to dinner with friends and he'll be eating at the table across from me. I had a dream that I was swimming in a pool with about 10 friends and he was there. I had another dream that I was going through old photos that I wanted to get framed and there was about 5 photos of him in there. I don't know why in the hell I'm dreaming about him every night. I don't think about him during the day. I haven't seen him in ages and I don't remember the last time I talked to him. I do know that he's in a relationship and I'm happy for him, but I just can't get him out of my dreams. It's weird. It's not like we talk or hang out, he's just there. I don't think about him during the day, but I am now because I freaking dream about him every night. This is driving me crazy. I don't want to think about him. He makes me sad. Someone make this go away.>>>My brother's 41st birthday is tomorrow. Man, I can't believe that we're getting so old. At least, I can say that I'm still in my 20's. He called me earlier today to tell me that his birthday was tomorrow and not to forget to call him. Ummm, duh! I haven't forgot about his birthday in years. I don't think that tomorrow will be the first day. He's so funny. He told me that I could call my Mom and tell her that she could send him some money when she got back in town. He's so crazy. If I called her and said that, she'd probably hang up in my face. >>>She and my sister are off doing the rodeo thing. F-U-N!!! I think that she had to deliver a truck to someone in Ohio or something. I dunno! On that note, I'm fixing to go home. It's cold as hell. I've got to check my mail and get my garbage can inside. Oh, what a fabulous life I lead!!!!>>>ttfn