catsinthetub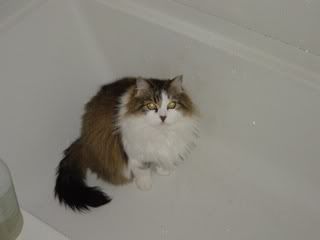 Rest in Peace
1993-2005
Ms. Tigger and I on the happiest day...
Back In The V E T T !!!
I couldn't get Brando to take his medicine all weekend. This morning he just looked awful. I called Dr. Vet's office and he said to bring him in and drop him off for the day. They then called me at work and said that he needed to stay there for a few days where they could make sure that he was getting his medicine. I'm so upset. It's nothing life threatening, thank God! I just hate that he has to spend a few nights in the hospital away from me. I'm going to miss him and I know that he's going to miss me. They did say that he had already taken his medicine and eaten some food. He didn't eat all weekend, so that was good. I told them to keep a close eye on him and that if he seemed afraid to give him a kitty valium or something. This sucks! I knew something bad was going to happen. What did I say last week? I told you so. I've got to go and call them for the 3rd time and check on him.
I've got two of the funniest entries written out. They are these two wacky dreams that I had back to back the other night. I'll try to get them posted asap. I've got another computer seminar in the morning, one wed, and one thurs and then I leave to go away. It's going to be a crazy week.
ttfn
I'm Leaving On A Jet Plane
Oh my aching ass! I wasn't hurting too bad after my kickboxing class, but after my workout and yoga last night, I'm one aching bitch today. I didn't know that you ass could hurt, literally! I'm not going to the Bahamas until next Thursday the 27th and coming home that following Tuesday the 2nd of May. I can't wait. I'll be staying on Paradise Island at the Atlantis resort. It's the nicest place there. It really is paradise. I was going to leave yesterday, but with Brando having to be medicated for the next couple of days and the fact that I have to be at work next Tues-Thurs for a new computer seminar, I just couldn't leave at the last minute like that. Don't get me wrong, I really, really wanted to just pack up my bikini and go far, far away, but I'll make it until next week.
I know what I'm doing this weekend. I was on my way to Dr. Vet's office which is about 30 miles from my house and actually took notice of my surroundings for the first time and noticed that there are like 10 flea markets between my house and Star. (Home of Faith Hill, I'm so proud!) Yes, I live in the cuuuntry!!! But anyway, I'm going to hit the flea markets in the morning. Of the subject, but I never really thought about it, but I'm originally from a few miles from where Tim McGraw is from and now I live a few miles from where Faith Hill is from and I hate both of their music. My sister once went through a Tim McGraw phase from hell and I took her to a few concerts. Oh the hell.
The first one I took her to was the George Straight festival in Nashville at Adelphia Coliseum where the Titans play NFL. I didn't mind much because we were staying at the Marriott and just walked there. It started at noon, so I had to start drinking at noon. The beer was two for six dollars and they were served in these HUGE 40 once cups. I didn't mind seeing Alan Jackson. I do like him. Let's just say that by the time Tim McGraw came out, it was dark and I was D-R-U-N-K and I liked him too! I really just loved seeing my sister's face light up when he came out and he started singing. HH started singing and dancing. So, my drunk ass jumped up and started dancing along with her. That was so unlike her because she is very shy, but she was having so much fun. Teachers often said that she would never get past the 2nd grade and she graduated from high school and to see her singing and knowing EVERY freaking word was just amazing to me. THEN...the shit started. This asshole security guard came by and told us that we had to sit down. Oh, hell no you didn't! I'll get you, you bastard! I was so pissed that I wanted Tim McGraw to apologize to her himself. I snuck backstage and was so mad there was no stopping me. I did find his manager and he offered to let her come backstage and meet Alan Jackson because Tim had already left. I was like, screw you. She came here to see Tim and we're both like 3ft tall and this asshole told us to sit down when there were giant rednecks in front of us dancing and he didn't say shit to them. I completely went off. He asked for her name and address and said that he would tell Tim what happened. I was just like, yeah right. I gave him the info and I'll be damned if she didn't get an apology letter from Tim along with his CD that was out at the time autoghaphed within the next few days with an invitation to Swampstock. It's the biggest redneck event in the world held every August just outside of Monroe, Louisiana in his hometown. So, what does the best big sister in the world do? She takes her lil sis to redneck fest.
Oh, the drama. We were up front because we got there really early and there was a group of "special" children up there with us. Some were blind, some had down syndrome and there was even a few in wheelchair's. We had our little area set up for the kids where they could see and enjoy the show. I swear when Faith Hill and Tim McGraw came out onto the stage the freaking rednecks plowed over these poor little kids. They literally knocked kids out of their wheelchair's and rushed the stage. I was fighting mad. My sister was pissed and said that she just wanted to leave. I helped to get all of the kids out of the mess and they ended up watching the show from the very back and after setting out in the hot sun all day long waiting for HH's man to sing. We stayed for a few songs and then left because we were just disgusted. Since then, we've not been to another concert and now HH prefers to listen to Pink Floyd and has stopped listening to crappy country.
Don't get me wrong. There is good country like Willie Nelson, Johnny Cash, Dolly Pardon and others. Then there is crappy country like the "new" stuff that you hear on the radio.
Another subject...on my way to Dr. Vet's office yesterday, I had to pass the old vet's office that I used to take Tigger too until they told me she was fine and a month later, she had to die. I was just thinking about it and my blood started boiling. I wanted to just plow my Jeep right into their building. I couldn't let it go. I thought about it ALL day long. I have spoken with my lawyer and he said that I could sue them, but I don't want their money. There is no amount of money in the world that could replace her. I was at the gas station and saw the local Sheriff and was talking to him about it. He said that I should sue them and donate the money to the local Humane society. I thought that was a great idea. I went by there when I got of work on my way to my Yoga class and basically told the vet what I wanted to do was to start The Tigger Foundation. What the Tigger Foundation would be is a non profit organization all money is by donation only. I want the vet to write a check to the local Humaine society for at least 500 dollars in Tigger's name and I want to put a big jar in their office with her picture on it and what I want to do is to inspire the vets to speak to people that are having to have a loved one put to sleep about adoption and encourage them to at least give the Humane society a try. I never thought that I would love another animal again and I now couldn't imagine my life without Brando. He truly has saved me. I thought that the vet was just going to say, see ya in court, but he said for me to come by Monday and he'd have a check for 1000 dollars made out to the Humane society and I could put my jar out and come by every few months and pick it up. I was so happy that I just started crying. If this gets one animal adopted than it will all be worth it. I just didn't want Tigger to be another file. I wanted her memory to live on. It not only is going to live on. It's possibly going to help lots of other animals out there. I finally feel like I have some closure after all of this time.
I'm really excited about making my website pretty again. I'm going over to Preston's after work and he's going to help me and I'm even adding lots and lots of photos on here. I can't wait. I think we're going to do it like a whole new link. I'm going to have Tigger's photo put back up and then some. When you go to my photos, there are going to be different sections. There is going to be a Tigger section, a Brando section, a 1st boyfiend to break my heart twice section, a Pepe section, (I think that I'll just call the section with any photo of any x-boyfriend, called digging up the dead) there will be a section that is just photos of a few of my paintings the artwork section, then there is just going to be a random photo section of crazy photos of me over the years. I'm really excited about it. I think that it's going to make my website look really good and it will also give you a better idea of who these people are that I've been moaning about for so many years.
Not to mention that I'm really excited about visiting with Preston. It's been forever since we've seen eachother anyway. Of course there is going to be a NN and PS section. It would not be complete without one. Ok my hands are now hurting. I must be on my way. I hope that you check out the photos. Let me know what you think!!! I think that this was the longest entry ever. If you made it to the bottom, have a great weekend and don't let your baby drink and drive like Brittney Spears does, ok?
ttfn
I Made Out With A Tree
I thought today was Earth Day and I was trying to do something to save the planet. Anyhew, I'm in a big hurry. I'm leaving work. I just wanted to let everyone know that Brando made it out of Dr.Vet a ok. I'm actually fixing to get ready for a vacation treat from my parents. I'm going to the Bahamas baby for five nights. I'll type more later.
ttfn
I Know, I'm An Idiot
I was just so excited yesterday when I was typing about my Jerry that I said that Jerry Rice was my favorite quarterback from Mississippi. I know damn well that he is and never was an NFL quarterback. He was the greatest wide receiver of all time scoring the most touchdowns ever until just recently. He still hold lots of records that will probably never be broken. I was just all cracked out about the Jeep and the anticipation of leaving work and all was just too much.
Well, Tom and Katie had their scientology conceived baby yesterday. Isn't that just super? I do like what they were told by the scientologist to name her, Suri. In Hebrew, it means "princess" and in Persian, it means "red rose". I do think that's a cool and unique name. I'm sure the lil girl will lead a quite unique life herself. She'll lead a very full life filled with scientology and walk like a zombie. I'm sure that she'll have to consult with their leader, I meant the scientologist, before buying her first pair of Manolo Blahniks. I know I had to call them before buying my first pair.
Oh dear! Tomorrow is Brando's appointment with Dr.Vet. I'm so scared that we're going to get bad news. I just cried about it yesterday. I know it was that I was just because I was putting up with Eliza. I was extremely overemotional. I was craving chocolate and french fries from McDonald's. I should have known that Eliza was on her way. She just always pops up out of nowhere. She's not normal and visits at the same time every month. I hate her!!! My stomach is hurting so bad right now that I'm not even sure if I'm going to make it to my kickboxing class or not. We shall see. Man, I'm so damn stressed about tomorrow. Like I asked yesterday, please, please, please, to all that are reading, please say a lil prayer for my Mr. Brando that he gets a clean bill of health tomorrow. I would just die if we got bad news.
ttfn
Let Me Tell You About Jerry
He's the new man in my life and no, he's not real. He's a car. He's not only a car. He's a Jeep Grand Cherokee Laredo limited golden edition that I now have in grey. I love him. It has EVERYTHING on it. Literally! This damn thing will actually tell you when to pee if you want it to. It's just the neatest thing ever. I was just in the right place at the right time and couldn't pass up such a good deal. I decided to name him Jerry after my favorite quarterback from Mississippi, Jerry Rice. Because, like Jerry, he totally hauls ass. I'm soo in love! Don't get me wrong, I still love Christopher, but there's just something about Jerry. Maybe it's the fact that not only can he go really fast, but he can dance too! Actually Christopher is getting put in the hospital tomorrow. He's getting a new windshield, a new top, and a new paint job. Afterall, my lil gay car must always look fab-bu-lous!!! This is so great. I mean things are actually starting to look good for me. I'm really starting to like my new job and I just got a new Jeep! How awesome is that?
Starting tomorrow, I'll be working out every day. On Mondays, I'll be going to my kickboxing classes after work, on Tuesdays, I'll be doing step aerobics and then yoga, on Wednesdays, I'll be going to my kickboxing classes, on Thursdays, I'll be doing my step aerobics and then yoga, and on Fridays, I'll be taking an aerobic spin class. I'll also be working out with weights, but I'm going to make a schedule for that. I want to work on my stomach one day, my arms, one day, and my legs one day. I'll figure it out. One thing is for sure, not to brag or anything, but by June my body is going to rock! I'm not working out to lose weight. I'm just working out to burn off some anxiety and tone up my body. Maybe I can put some muscle on my skinny lil self. I was joking with my mother earlier and told her that by June, she would be able to bounce a quarter off my ass. She then laughed and replied that I would first have to get an ass before she could bounce anything off of it. I'll show her!
Anyhew, I was just so excited about Jerry that I had to share the news with you!!! Everything is going so great, I hope nothing bad happens to ruin it. Brando has his annual Dr.Vet visit on Thursday morning. That has me a little scared. I'm just afraid of bad news. Do me a HUGE favor, ok people, please say a little prayer that Brando gets a clean bill of health. It would really mean a lot if you did. I would really appreciate it. I'll love you all forever if you do this for me, promise!!!
ttfn
And Then There Was A Cat Named Hugh
I'll just start off by saying that I've had some of the craziest dreams lately, but the last one simply takes the cake!
Ok, my little sister and I were living in an old mansion in the French Quarter in New Orleans. We had turned it into a world famous bed and breakfast. It was "the" place to stay for the rich and famous that were visiting or traveling alone. If you looked at us, you would just think that we were just two middle aged women that lived with lots of cats, but there's so much more to the story.
Before I even get stated, let me tell you that there was a group of men that had stayed at our bed and breakfast that later were reported missing on the news. I don't think anyone would have cared, but, like I said before, these were your rich, famous, and some were single. Ok, back to story...
We were, indeed, two middle aged women that did have lots of cats, but our cats had very famous names. They had names like: Matthew McConaughey, George Clooney, Colin Farrell, Orlando Bloom, Johnny Depp, Brad Pitt, Jude Law, and many others. Those are just a few that you may have heard of. They were all male cats and had little collars with their names on them.
Some men had suspected the use of voodoo. They had started this ridiculous rumor that the two sisters were turning these famous men into cats, but yet they were too scared to stay at the bed and breakfast themselves.
My sister had checked a lady in late one night. I didn't see her face. I just saw that she was a very nice dressed bigger woman. I had gotten up in the middle of the night to go to the kitchen and saw a man coming from the woman's room. I told the man that our women visitors were not allowed to have male visitors and our male visitors were not allowed to have female visitors. He turned around and apologized. (I about pissed on myself because it was freaking Hugh Jackman!!!) He said that he was doing a movie and one of the scenes calls for him to dress up like a woman and he came here straight from work. I was like, um...yeah, Wolverine's a crossdresser? Show me your outfit! He took me into his room and stripped down and then put on his other outfit. He wasn't lying. He then put on something more comfortable.
I told him that I was on my way to the kitchen to have a nightcap and invited him to join me. He did. As we were chatting, one thing led to another and we ended up kissing eachother. I was just like, "wait a minute. Your one of the good guys. Your happily married and you don't cheat! What would you do if you got caught?" He replied, "oh, we'll just adopt another kid. They're great PR!" I then wiggled my nose like Bewitched herself and turned Hugh into a cat. He also has his own collar with his name on it. Don't worry, I'm not going to have Wolverine declawed. I was just really pissed off when he made that comment about his family.
Your probably wondering why I keep all of these famous cats around. Well, I not only have the power to turn them into cats, but I also have the power to turn them back. And when you turn them back and play with them, they are ever so sweet. Don't get me wrong, they (as cats) are spoiled absolutely rotten. They want for nothing and when I do change them back they always tell me how happy they are. It depends on what mood I'm in on what cat I want to play with (as a human). If I just want to go get drunk and have a good ole time, it's definitely Matthew. If I just want to snuggle up on the couch and watch a movie, Hugh!
You may wonder how I get them to come inside when I'm ready to change them. They mostly like to hang out on the front porch, but if the one I'm looking for isn't there, I just send my sister outside. She'll go out there with a can of caviar and a bottle of milk, call him by his name, and he comes running. She just has a way with cats. She always has. The great thing about these cats is that there is no litter box to change. I think that embarrasses them. They do all of their business outside. That's the coolest and Brando seems to get along with all of them. I think they all pretty much know not to mess with him unless they want to get their asses kicked.
So, that was my crazy dream and it seemed to last for hours. I swear that's something that you could write a book about or something. It has all of those crazy elements needed for a book like this!
ttfn
If You Are What You Eat...Than I'm Cheap, Fast, And Easy
I just got back from getting a manicure and there was a sign hanging on the wall that said that. I thought that it was cute and oh so true. I'm not saying that I'm easy or anything like that, but my food intake does tend to be at times. Hell, my intake of men does tend to be at times also because they usually just turn out to be losers, liars, or even worse. It usually takes me a while before I find out that they are having sex with everyone, but me. Oh well, I guess we are meant to learn from our mistakes, correct?
I'm starting to like my job more and more. I'm just not used to waking up at 7am. That's going to take some getting used to, but I think I can handle it. I'm going to try to get out of here a little early today. I want to go work out a bit before I go home. No, I'm not trying to loose weight. I just want to keep what I have toned. I would like to build a little more muscle in my arms, but that's really no biggie. I just find that it's better to work out than it is to drink or smoke when I get off work, but I'm sure I will enjoy a small glass of wine when I get home. I do have a painting that I need to work on for at least an hour tonight. Got to!
My small glass of wine will help me decide what to cook for dinner. I just have a cooking problem. I live alone and tend to cook enough food for 10 people. I think that I'll try and make my terrayaki pork chops for one instead of 10 this time. That will be good. Maybe with some grilled asparagus and a small salad. Yeah! I think that's what I'll have for dinner. Oh, crap! I had a few things that needed to be dropped off at the dry cleaners today and I forgot them at home. Oh well, I guess it will have to wait until tomorrow. It's not like I don't have 3 closets full of clothes ready to wear.
You know what I was wondering on the way to work this morning? Why do I still have photos of myself with my ex-boyfriends? I know that I should get rid of them because they are dead to me, but I'm constantly finding myself thinking, "No...This is a part of my past when I was happy and the pics are so cute. This was a part of my life and I should hold on to them. " I think that I'm finally going to get rid of all of them. It's time to make new memories and they are no part of them. I seriously doubt that they are holding on to old photos of me and if they are than they need to get rid of them too.
I'm off to do some real work for a few minutes. I saw a really fine poster of Hugh Jackman on eBay earlier. I need to go and bid on it because it would look really nice in my office. So far I only have one really hot poster of Matthew McConaughey-hey in the Stetson ad where he's dressed up as a cowboy. All I have to say about that one is M-E-O-W!!!
ttfn
Take This Job And Shove It...
That's what I feel like saying at this particular moment in time. If there is anything about myself that I wanted to keep private about my personal life, well, my Mom took care of that situation yesterday by telling one of my most secret of secrets to a fellow employee. I feel like a total shit now. I don't think that this person would tell this secret, but that's not the point. The point is that my own mother, one of the few people that I trust in this world did this. I feel as though she has betrayed my confidence and I don't like feeling that way. I guess from now on if I'm ever going through anything major in my life that the best thing for me to do is to just keep it to my damn self.
Ok, I know that you're all dying to hear what I'm sporting in the world of fashion today. I look as if someone has spilled a bottle of Pepto all over me. I'm pink all over!!! I have on a pale pink short sleeve shirt with a white rhinestone butterfly pin and a hot pink and pale pink flower pin on it. I'm wearing a denim skirt that goes just a few inches past my knees with a pair of pink flip-flops that have pink rhinestones all over them. Of course, I'm sporting the hair in the ponytail along with my oh-so-cute black glasses. I have a light sweater that looks like something a very hip granny would wear. It's off white with butterflies and flowers all over it decorated with sequins and rhinestones. Of course, I'm carrying a matching hand bag. It's really a cute outfit. It would just probably look much better on me if I had my hair down and these glasses off, but that's not going to happen any time soon. I don't have to worry about what I'm wearing up here to the most magical place on earth tomorrow, because thankfully, I will not be here tomorrow. I'm ever so happy to be saying that once I leave here today that I don't have to be back until Monday. Thank you, Jesus!
We are suspose to have really bad weather tomorrow, so I'm going to be hanging out with HH. I'll be home Saturday and Sunday just chilling out and doing what I do best, which is just being alone these days, but I'm not here to bitch and complain. Hey, at least I have Brando to keep me company and he's all I need. I've pretty much accepted the fact that I'm destined to live a life alone with no friends, no man, and no family (except those that just won't go away). I really just don't care anymore. I don't need people around me all of the time constantly reminding me why I'd much rather be alone to be happy. As for today, I'm perfectly happy with my life just the way it is. Now that may all be different by Monday, but I doubt it. I'm just sick of trying to seek others approval in the hunt for happiness. I'm going to seek approval from one person and one person only, ME! I'm the only person that can control my future and my life. I've done a bang up job so far. Don't ya think? I mean, really, not only am I the most depressed person that I know. I'm the happiest! Ain't that a peach?
ttfn
Just Bored
I've finally got my computer set up at work. Now I can sit and pretend to be working. Ha! Ha! I just got my computer all Hughed up! It has this beautiful Hugh Jackman screensaver, the clock on the bottom is a pic of Hugh, and when you move the mouse, it's not an arrow. It's a small pic of Hugh. I didn't even know you could do that, but, I once again, found another website made up by someone who is like me and totally obsessed, but very computer savvy. I appreciate this. I like people that can put their obsessions to good use for the otherwise computer stupidly obsessed person like me to use.
This job is ok. I mean, it pays well and I really don't have to be here at a certain time or answer to anyone, but it's boring as hell! On my first day, I noticed that all of these geeky guys kept walking by my office and looking for lame ass excuses to come into my office. Trust me, there is no one up here that I want to date and even if there was, I wouldn't. So, (hee! hee!) I have decided to make myself look like the biggest geek in the world to try and make them go away and it's totally working. I love it! I came in to work yesterday wearing a short sleeved black turtleneck shirt and a black and white shirt that went like 2 inches past my knees with some black sandals. I had a rhinestone butterfly pin on my shirt. I was wearing my black cat eye glasses with rhinestones all over the sides of them. I had my hair pulled back in a ponytail with a black and rhinestone rubberband and the pieces that were falling down around my face, I had them pulled back with these small rhinestone hair pins. Love it! I looked like I had just step out of the Lisa Loeb look alike contest, but I'm totally loving this look. It's very comfortable and I have noticed a decline in the walk by my office and play peek a boo and the I just came in to ask you a stupid question game played by the many of desperate men that work here. Today, I'm wearing a white Polo shirt with a big rhinestone frog on it with some khaki pants with some brown Birk's. My hair is as always, in the pony tail position with my big geeky black rhinestone glasses on my head.
I just want to give all of these dogs the impression that I'm a total prude and I'm here to work and go home and that's all. I don't want to get to know any of them. I don't want them to try and talk to me when I go outside and smoke my cigarette. I don't want to get to know them personally. I just want to come up here, do my job, and get the hell out. I do have one friend that I work with now that I have known for about 10 years and he asked me about "the look" that I was sporting and I told him the story and he thinks that it's absolutely hilarious. He thinks that I'm crazy, but, funny! He said if any of these men kept hitting on me after this, then they deserved whatever punishment they got! Ha! Ha! He also said that if I met anyone that I really connected with (not at work) while still in my disguise, it must be love! Funny! He also said that I should try and meet a guy dressed this way and see what I find and if I really do meet someone with a connection that they would shit when they saw the real me.
I'm having so much fun with this! I like playing dress up every day, love it! Hey, the telephone guy was just here installing my new phone system and didn't give me a second glance. So far, so good! I'll be back tomorrow to tell you what I'm wearing and if anyone is taking notice!
ttfn