catsinthetub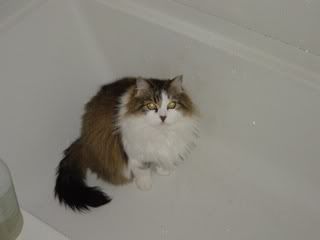 Rest in Peace
1993-2005
Ms. Tigger and I on the happiest day...
You're Uninvited
It's pouring down rain here. I kind of like the rainy weather. I can just sit, write, and listen to music. I love it! But, for those of you whose plans were disturbed by the weather, sorry. Just move it inside. You can party anywhere!
My plan for the day is to sit and watch as much Absolutely Fabulous as I can. PS let me borrow his entire season collection. ALL of them on DVD. (EVERY EPISODE! YIPPIE!!) Oh, Patsy, Darling, you have been missed!
I had a fun time saturday. ? and I were listening to music and I was asked if I liked Mazzy Star. "Hell yes, I love her!" He sat beside me and said that he knew every word to every song on that albumn, tape, CD, computer, whatevah! As soon as it started, we both sang most of it. (I don't know if this is a big deal to you, the reader, but a man that likes Mazzy Star as much as I do is definitely a wonderful quality.)
Anyhow, I've found myself listening to her a lot since then. I mean, I've had one of her tapes and a CD for years. I guess that I haven't had her in my disc changer since October, November, who knows? You know how you just load the changer and it's a pain in the ass to change them? Or I could just be a lazy fuck!? Hmmm!
? played his favorite Mazzy song for me and this lyric has been in my head since. These lyrics are what it must feel like to really love someone:
When I see you,
I want to kiss you.
But, I know that ain't right
so I ask if I can hold you.

Oh Babe, I need you so bad.
Oh Babe, I only want to make you
G-L-A-D...........
How freaking lovely is that? I never really heard (you know really felt it) in that way. I've had it for years and never REALLY paid attention to that song. One day I want to be loved like that. I want to make someone G-L-A-D. It's just the sweetest!!!
Christopher went riding along the Natchez Trace yesterday. It was such a cool day for a ride . Felt good just to get out and about! ? and I went in search for alligators, muskrats, snakes, and beavers. All we found were lizards and people. Heee!! We both got chewed on by mosquitos. That was the first time that I'd had a reasonably long walk without the cane since I got out of the hospital. Hooray for me!! It was the purrrfect day. Really, it was pretty, not too hot, and very relaxing.
I've fallen in love and she is the sweetest thing. Her name is Foot Foot. She has red hair with a few blonde highlights. Foot2 is gorgeous and I think that she really likes me too. She's a little younger than me, but hell, if I'm chasing pussy, she may as well be young and beautiful. She follows me everywhere. I think she wants me. I'm just going to take it slow.
I just took my jewelry off earlier and noticed that on my little fake wedding band that one of the rhinestones were gone. It's just a very small silver band that had five small rhinestones going around it. My ring finger is a size four. (You might say that it's a bit small, but cute.) I've had this ring for a while and can't help but take it as some kind of sign. Will I ever have a "real" one there? You know, one someone actually got down on one knee and asked me to wear or is it that the circle has finally been broken? I will say that when I noticed it, I looked at my mood ring and it was almost black!?
**Not that I believe in all of that, but I've been playing with this ring all weekend and that was the first time that it wasn't blue, green, anything, but black. Funny huh?
By the way, have you hugged a wall today? I have.
Are They Dead?
I was talking to my cousin Kim sunday and she told me the funniest damn story. I feel the need to share it with you. Anyway, my brother was at a bar and was leaving on his motorcycle. There was this lady there that he offered to give her a ride home to since she lived close by. They stopped by Kim's house on the way to visit for a moment.
Kim told me that this lady weighed at least 300lbs. No shit! (Nothing against fat people, but that's a lot of weight to carry on a motorcycle.) Anyway, they were leaving and they both finally got on the bike and Johnny couldn't even get it out of the driveway. After trying for a while, the bike fell over with them on it. (Thankfully, no one was hurt, but I heard that it was damn funny.) The lady was so big that they had trouble getting her out from under the bike. It was about around that time that Kim's daughter, the beautiful, yet terrible 2 year old Lexie ran out of the house yelling, "are they dead? Are they dead?"
After talking to my brother about it, he said there is now a weight limit for his passengers.
Hello Old Friend
This was written yesterday 2pm.
This is the first time that I've written since my little "experience". I'm feeling sooo tired. I'm taking my medication (Neurontin and Ativan)three times a day. This shit makes me so tired. Example: I took my first dose this morning at 8am, played the magical flute, and was asleep by 9am and didn't wake up until noon. Now it's 2pm and time for my second dose.I try to take the third by 7 or 8pm. AHHHH!!!! I feel like all I've done since I've gotten out of the hospital is sleep. Now, you tell me, how am I suspose to keep up with
Days of Our Lives
at this rate?
I did have a date last night with a total cutie. I didn't realize just how much I was craving attention until it was lavished upon me. The only thing this guy didn't do was bring me flowers, (Daisies and tulips are the way to go. Anyone can get roses.) but how was my sweetness to know that? Thank you, sweetness for a grrrreat evening. I look foward to the next one. Maybe we'll do something just the two of us. You know? I know your reading. (To all of the perverts reading out there, no, I'm not talking about sex with chickens. That doesn't happen until you're well into the second month of dating!!)
I'm still suffering from pain (sometimes severe) from the seizure, spinal, whatevah!! The only thing that is bothering me is that my back pain seems to be getting progresively worse instead of better. It almost embarasses me because when I walk, I usually have to be holding on to something or someone. I feel like a cat that's had one side of it's whiskers cut. (You might call me a little off balance.) Being a catlike woman myself, I can sympathize with all of the whiskerless kitties running around looking crazy. I'm seriously thinking of getting a cane to help me walk, but where does one find a cool cane. I certainly don't want one that looks like it was stolen from our local nursing home. I need something cool. Maybe with a skull handle. Nothing could possibly make me look any crazier than I look now.
About my little "experience": Pepe said that I was sitting on the couch staring up at the ceiling (looking at God knows what, you know us kitties see crazy shit all of the time) and followed it down to the floor. I then managed to become as stiff as a board. I had turned my neck as far to the right as I could and pressed my chin close to my body. Then I started kicking my legs against the coffee table. (I still have bruises all over me. I feel so purdy!) I have very fair skin and bruise easily, so you can imagine. I then fell out on the floor, rolled my eyes into the back of my head, had some white foamy shit coming out of my mouth, and stopped breathing for 40 seconds. When I started breathing, I sucked all of God knows what into my mouth. YUMMY! I quickly jumped up and started clenching my teeth and flinging my arms and tried to kick Pepe's ass. Once I stopped, he cleaned me up and threw a hat on my head and took me to the emergency room. (I'd thrown up ALL night before this happened. Needless to say, I wasn't looking like my usual Miss America self!) I'm not quite sure when it was that the doctor told me that I'd had a grand-maul seizure.
I couldn't talk. I didn't know my name or anyone elses. I didn't know what city or state that I was in. I couldn't even urinate. I had to be catherized (not sure on the spelling) and that was so pleasant. Imagine it, you're lying there on you're back with your hoo-haa exposed for all to see and have one person holding each leg apart and one practally sitting on you because you just kicked the shit out of the nurse. I thought the whole process was very painful. That was until I was fortunate enough to get a spinal tap. OH MY GOD!!! NOW THAT'S PAIN!! My back still hurts from that damn thing. I just found out tuesday that I was in the hospital for 5 days. I thought that I was only the for 2 or 3. It's like I don't remember the events of the whole week. In a way, I'm glad that I don't, but it also scares me that that can happen. I can tell you one thing, I'll remember that spinal tap for the rest of my life.
This medicine is also depressing the hell out of me. You guys know that depression is just one of my many wonderful traits, but I'm talking like a whole lot more than usual. I'm finding that I don't want to be alone. Oh, and I can cry during a fucking Puppy Chow comercial. I dare not to even watch Oprah for the fear of an emotional overload. A month ago I loved to be alone and do nothing, but play with my Tigger and my "Precious". My how things can change. Damn it, I'm crying now.
I must be going now. I guess that I should make myself eat something. Since I've been on this medication, cigarettes have taken the place of food. Besides, I must go and figure out what to wear this evening. I must look my best.
I've never gone this long without posting and hope that I never do it again. I must say, it's good to be back!!!
I'm Alive
I haven't been able to post in a while. I've been sick. I just wanted to let everyone know that I was still around. I've been in the hospital. I had a bad seisure. The doctors are telling me that I have Epilepsy, but I'm going to have a second opinion soon. I will be posting A.S.A.P. I hope that everyone is doing well. I know that this isn't my usual funny post, but I just haven't had time or energy to write. I plan on getting things back to normal by next week.
Have a grrrreat weekend and to all of the mommies, Happy Mother's Day.
T.T.F.N.